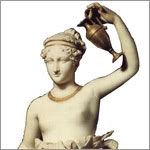 Women, Hebe in spotlight at museum
The News-Review - 7th April 2005
The inclusion of another figure in the exhibit, though, has caused some
controversy
in recent months. Hebe, the Greek goddess of youth, was included because she is a part of Roseburg's history.
A drinking fountain
bearing her image was constructed in the early 1900s and installed on the corner of Cass Avenue and Main Street in Roseburg. The fountain was destroyed in 1912 by a runaway wagon.
McLaughlin said Hebe's original purpose was to encourage people to drink water over alcohol. However, some people are against her because she is perceived as a pagan symbol. Because of the public outcry, the Douglas County Commissioners originally vetoed her inclusion in the exhibit. They later reversed their decision.
"Hebe has always been cloaked in controversy," McLaughlin said. "She has always made people think. How exciting is that, to get people to talk to one another and think?"
via
The Pagan Prattle