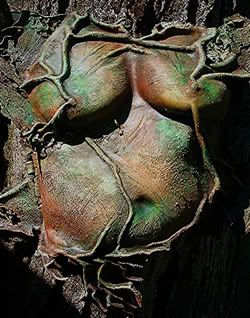 RainWalker Studio
Revealing the Mythic Self
A beautiful site filled with beautiful stories and ideas. Go explore!
I enjoyed the page of
goddess masks
. Click on each mask for more images and narrative. I play the parts of Persephone and Gaia daily, but recently my circle of friends began referring to me as

Spiderwoman
I wouldn't have seen it on my own, and it is true in many ways. I am the weaver of the web of my family, keeping all of us connected in daily tasks and special occasions. I also play the role in my group of friends, creating opportunities for intimacy and communication. I recently lead a ritual using a
web
at a Blessingway. Then there is my addiction to the world-wide-web.
Which of our mythic selves are you connecting with? Tell us about it in the comments, or create a new post and show us the visual as well. I guess I can't help spinning....